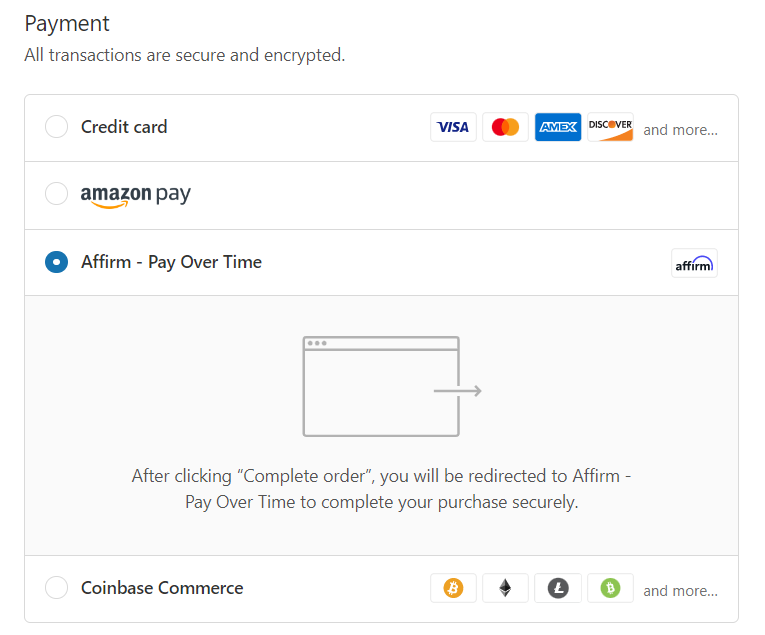 Add your desired item to the shopping cart and proceed to checkout.
Once in the checkout, make sure you "check out as guest", especially if you've used ShopPay before.
Choose "Affirm - Pay Over Time" option to apply for financing.
Affirm will instantly pre-qualify you. This eligibility check won't affect your credit score.
Once qualified, select a payment plan that works for you from the available options of 12, 24, 36 months.
Complete your purchase and get ready to change your life!
FAQ
What if I don't see Affirm at checkout?

If you are not seeing the option to checkout with Affirm please try the below troubleshooting options.

Do you have any subscriptions in your cart? If yes, please remove it (you'll need to place a second order with a credit/debit card). Recurring subscriptions cannot be put on a purchasing plan with Affirm since the loan would never end!
Is your computer/tablet/phone automatically logging you into Shop Pay and auto-populating your payment information?
Here's a

link for instructions

on how to log out


Lastly, web browsers store information in their cache and cookies. Sometimes that can cause problems with auto-filling card information and not showing the option to use Affirm. Below are links with instructions on how to resolve this problem based on which browser you are using.

On a Computer:


Google Chrome




Safari




Internet Explorer/Microsoft Edge



On an iPhone/iPad:


Safari




Google Chrome



On an Android:


Chrome




Mozilla Firefox



If none of these tips resolve your Affirm issues, please give us a call at 916-545-6304.
Will Affirm affect my credit score?

Creating an Affirm account through Plunge and seeing if you prequalify will not affect your credit score. If you decide to make your purchase with Affirm, these things may affect your credit score: actually making the purchase with Affirm, your payment history with Affirm once you have a loan, how much credit you've used, and how long you've had credit.
Does Affirm charge interest and fees?

Fees - Affirm doesn't charge any fees. That means no late fees, no prepayment fees, no annual fees, and no fees to open or close your account.

Interest - Your payment will only include interest for the 24, 36 or 48 month options or if for some reason your credit score is below desired levels. You'll never owe more interest than you agree to on day one—so you always know exactly what you're getting into.
What does it mean to prequalify?

When you prequalify, you get an estimate of how much you can spend with Affirm. You don't have to use the full amount, and you're not on the hook to pay anything back until you actually make a purchase. If you decide to make the purchase, Affirm will formally pull your credit and underwrite the loan for you.
What if I need to return or cancel my order?
Your rate will be 0% APR or 10-36% APR based on credit, and is subject to an eligibility check. Payment options through Affirm are provided by these lending partners: affirm.com/lenders. Options depend on your purchase amount, and a down payment may be required.
You can return your product within 30 days of delivery as per our return policy, but please note that interest paid to Affirm cannot be refunded.
Please keep in mind that the terms and conditions of this offer are subject to change, and your eligibility for financing may depend on a variety of factors.